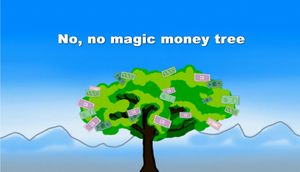 When the lock-down for Corona Virus suddenly came into play in March 2020, James Warren and Al Steele were right in the middle of a bout of songwriting sessions, and creating musical arrangements for the forthcoming James Warren and his Mighty Miniature Orchestra gig. 
When we realised that we could not physically get together our collective brains started ticking as to what we could do remotely. Equally cut short were String Sessions for Liverpool band Exhibit-1, and main man Chris Hopkins and Al were talking on Messenger when the slightly outlandish idea was put forward that one of us would start a song and then pass it onto the other. James was invited to participate, and the ideas started rolling. 
The first one came in from Chris, called 'This Is A New Low'. Carrying on in the political vein, Al put forward the verse called 'Magic Money Tree'. Almost simultaneously, James wrote a fantastically tuneful chorus and Chris sent through a very dark middle section. On the same day Al also completed a very Floydian 2nd section for 'This Is A New Low'. 
Both songs seemed somewhat reminiscent of a couple of the tunes from Stackridges 'A Victory For Common Sense'... a thought that did not go un-noted, as Al had previously brought Exhibit-1 to the attention of James, for the band's similarity to Stackridge. 
Al began to mix the various files for 'Magic Money Tree' as they were sent through - splitting Chris' long section.  into two halves and key changing the 2nd half into an outro. All 3 parties then added various layers of harmonies.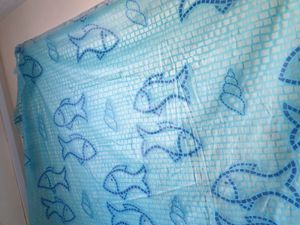 James and Al had been experimenting with the meeting app Zoom, and talking about the possibilities of 'green screen' video via it's Backgrounds and Recording facilities. Al filmed his sections in this way, with an old shower curtain on the wall. Fortunately the fish on the curtain didn't show up(!) and a backdrop of money was shown in its place. Al's shirt was quite close to the colour of the fish curtain, so it disappeared completely, letting the money backdrop show through. The random  appearance/disappearance really adds to this rather manic Farage-type character.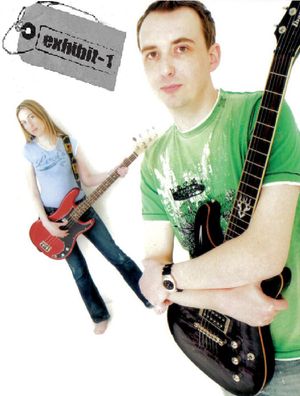 Exhibit-1 are exclusively a studio band - something they have in common with the later Beatles period! - so there was a tiny bit of resistance to going public on film. After explaining how a towel could be a green screen, they sent through some footage with the accompanying text... 'If you think this is bad, then you should have seen the other 12 takes!'... adding 'We make the original Batman series look like a convincing, well-acted drama'! 
Leah Darknell - the artist who created James Warren's 'Have You Seen The Colours' video - animated a 'Magic Money Tree' in which she hand drew every note of money, and made them shake in a random way. As this was to coincide with James' chorus we would need the man himself to tackle the old green screen challenge! After several Zoom sessions where there did not appear to be a clear wall nearby, and he couldn't find anything tall enough to hang a beach towel on, we settled on filming against a cream wall... not ideal but would have to do. As it happens it created a rather interesting effect of making his silhouette disappear, and he blended into the blue sky seamlessly! 
We all felt that this would make a rather splendid Korgis song, and the plan is when lock-down is finally over, the rest of the band will dub in their bits. 
Here is the Youtube link - and hey!... please subscribe. 
Magic Money Tree

As we were nearing the completion of the video and the final master, James sent across another FIVE pieces of music that could be taken much further. Chris has already begun work on one of them. 
So here is to the future, where we can actually write together in the same room!... but thank you to this isolation, we know that we can still bring things together even when we are apart! 
Let's hope the whole world can do the same... 
THE KORGIS