For a songwriter, having time on your hands is not an issue - so the last year of lockdown has meant we could turn those whirring brains to something big!

Well... here we are 3 singles in, with at least half of the album mastered and we thought it might be fun to let you in on our working methods. We have already covered the birth of our album 'Kartoon World' in an earlier blog (check out The Creative Process Behind Magic Money Tree with some more info and a link to the demo of the 2nd song in The Korgis Status Report Mid-2020) so we will leap frog on to where we are now - and more specifically the first 3 singles. This is Al Steele by the way. James Warren, John Baker and myself wrote all of this album with some input on a couple of songs from some third parties.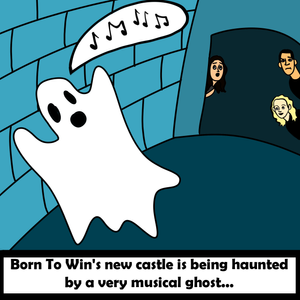 1) The Ghost of You
You will notice that all the videos begin with scrolling text. That's because this is a 'concept album man!!!' Each song fits into a time period between 1980 and 2030 - yes we are commenting on the past, present AND projecting into the future!
By about May James Warren had started coming into the studio and we began working on various bits of songs - some scraps and pieces I had and some he had. However this song was a new idea we built from scratch, based around a few simple chords and an infectious drum loop that James brought in. He also had a rough tune for the verse. When James went home I carried on working on it, and quickly wrote the chorus sequence. The whole song really felt like it belonged on the dance floor, so initially we went full pelt on this idea. The middle 8 to me was a stop gap that I thought we should replace but everyone seemed to like it - so it stayed. I did like the idea of it being a tongue twister though!
Here is what the early dance version sounded like!
The Ghost Of You - Dance Version - DEMO!
Knowing how the rest of the album was shaping up, I thought it would not quite fit in, so we went for a more synthy 80's thing and that gave us a bit more scope with guitars as well.
Here is James talking around the time of the release.
James' thoughts on The Ghost of You
We chose this as a first release because we thought it might be a little unexpected, and we certainly didn't want people to think this would be a Korgis album to pass people by! By single number 3 we are really starting to rattle some cages!... but I am getting ahead of myself! Here is the video and final version of The Ghost of You - we managed to sneak every member of the 8-piece band in there!
The Ghost of You - Single version
2) Bringing Back the Spirit of Love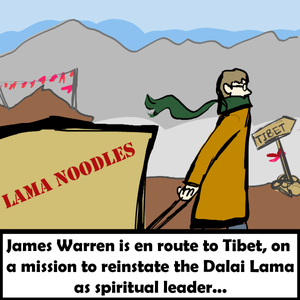 This song looks back at the peace movement of the 60's when even the guys wore flowers in their hair and love was most definitely the answer. Well anyone with any modicum of sense knows that it still is! We wanted to write a modern day revolution song.
This started with an idea I sent to the guys to think about and embellish. As you will hear, the lyrics and the end sequence changed as we went along. Here is me in Studio 2 at Shabbey Road bashing out the idea on a travel guitar!
Bringing Back the Spirit of Love - Original idea
Hashing out the rest of a song can be a long and arduous process - unless your name is James Warren. Just before he left the studio one day I said, 'James, we need a verse for Bring Back the Spirit..' He replied 'Shall we do it now?' 10 mins later we had the verse and bridge section of the song. Again I think I went straight on and put down the basic verse instruments in a rough form - but I know the original guitar stayed. Why reinvent the wheel eh?!
We pieced the songs together with each person coming in separately. The exception being Jay, Emmy and Ava, our backing vocalists (a band in their own right called Born to Win) who were their own bubble. There are MASSES of vocals on this song. I reckon the main block of the chorus has 18 vocals not counting the extra lines that come in at the end! Drums were done in  blocks of 3 or 4 songs a session. James and myself did basses and electric guitars and John did lots of the acoustic guitar parts as well as about a million vocals! Nigel came in and dubbed grand piano on the song giving it a real Paul McCartney flavour.
Before we finally got the master stage James went through the whole song adding little bits of guitar/keys here and there - and RIGHT at the end, I went back to my original idea which was a kind of oompah oompah stick it up your jumper type rhythm but reinvented as a rap/rant to ramp up the song to the end.
James has been mastering these at home - and doing a grand job as well. There will be a different mix for vinyl - a more open 70's kind of thing - you know before we got into the loudness wars? Here is the vid - this will be preceded by The Kartoon World Overture where we will have our familiar space scroller text. Enjoy!
Bringing Back the Spirit of Love - Single Mix
3) Time (Song for Dom)
This started with something James called Fantasy Waltz. He had been tinkering with things in Glenn Tommey's studio in Bath. It was from the start a very odd piece and reminded me very much of something Stackridge might have done. I really liked the original lyrics but James insisted they were just nonsense and suggested we re-write. He was of course one of the principle writer's in Stackridge before himself and Andy Davis went and formed The Korgis some years later. Here it is!
Fantasy Waltz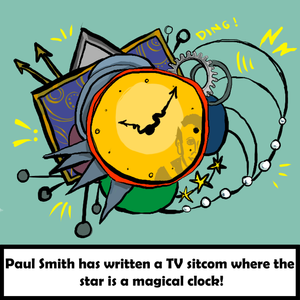 It kind of reminded me of a clock and as our artist Leah Darknell had already drawn a cartoon about a Paul or drummer being drawn into a magical clock, it seemed the idea might work. I am not altogether sure when the idea for it to be about Dominic Cummings came about - I would like to be clever and say because it fitted the timeline of the Concept Album, but it was before that idea had solidified - possibly after I had added the chorus section. The chorus lyrics are just a play on works of all the phrases that include time in them - and I reckon the onion was the same one The Beatles were talking about when Lennon sang 'Well here's another clue for you all - the Walrus was Paul.'
In case anyone gets the wrong end of the stick - this is not an anti-Brexit song(!) but more an observation on how Dom changed the political tools when he began to use Cambridge Analytica to massage the Social Media and reach out to the untouchables that no-one had been able to reach before. He was, and still is, a very clever man. Whether he has been a change for better or for worse only history will judge.
Now it was really starting to sound even more like Stackridge and we really put our prog heads on. Lurching into the rock section in the middle really made the song for me. The tune is the same - the chords are the same - but we are suddenly back in the era of ELP and Genesis! John does a great vocal here and in the video he is furiously pedalling an exercise bike that obviously is going nowhere... there is perhaps a statement there! The epilogue where Dom eventually goes to heaven is also something that makes me smirk.
'Repent if I could, do you think that I would?... when the good life is just for the chosen one'
Here is our very prog video!
Time (Song for Dom)
Anything else you would like to know please ask away in the comments section below. Feel free to share!
Can't wait for you to hear the whole album. Keep in touch - drop us a line in the contact us tab if you want.
Have as good and safe a time as you can - until we meet again in person at a gig - WHAT'S ONE OF THEM?!!