WOW!

Fantastic response to our Pre-sales. Thank you so much.
After the shut-down in this industry, there has been lot's of doom and gloom, saying things will not come back for another year etc... let's hope your enthusiasm is a sign that we are ready now!
As you know we have a bunch of dates lined up and can't wait to get out there and play you some of our new stuff!
BAD NEWS - unbeknown to us - this year has been a vinyl disaster year! We have been given as many reasons why as there are duplicating companies, but the long and short of it is, that turnaround times are 4 months more than normal. We have managed to find a company that is KIND OF giving us a mid-October date. We will update you as we know more.

SO - all you vinyl freaks - please accept our sincere apologies as we wanted to release the vinyl first - but there will be a delay. Those that have bought the Box Sets (and a MASSIVE thank you for that!) we will still send the Box Sets and then vinyl as soon as it arrives. Anyone who has ordered vinyl alone will get the download on the day of release. We are going to make this the full CD2 version, which includes the 3 tracks we couldn't fit on the vinyl (because no-one wants a rubbish sounding LP!) and all the extra mixes that James has  been working on in his loft!

Do email us if you have any queries - it has been brilliant to have the feedback of some of our recently estranged EU cousins as to how best to avoid unnecessary extra charges. Any way we can help we will. We don't have a third party dealing with these sales, so any emails come through to James John or Al, and hopefully we know what is going on!
We have an extra VIP to add to our fold. In secret Nigel Voyle has been slaving away behind the scenes - making all of those amazing pics, and posting away on our Social Media - and generally helping us to gain world domination! Nigel is our new manager and we would like say a BIG THANK YOU for moving us out of the dark ages. You might see Nig on gigs taking pics and saying 'no comment' when asked awkward questions. Don't pester him - he is doing a great job!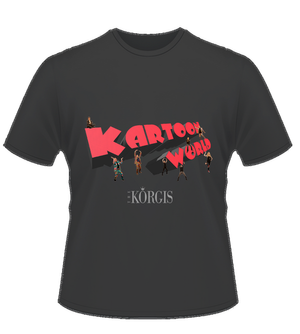 Anyone who bought pre-sales (and you still can!) is also eligible for a postage free top up of merch. We meant to have the T-Shirts and standalone poster options there as we went live, but 'The best laid plans of mice and men...' Again email if you fall into this category.
Just for clarification, if you order any of the larger size products then all extras are free postage. For those that don't know, the CD versions of course include the two posters, but they are a smaller size than we can fit in the Vinyl's or Box Sets. The LARGE posters are in the Pre-sale Store as extras at £3 each. WHAT?!!!... are we barmy?! Most people that know us are already aware of the answer!
Sorry again for the vinyl holdup - but if we were in charge this would never happen! KORGIS FOR GOVERNMENT NOW!
Love from James John and Al